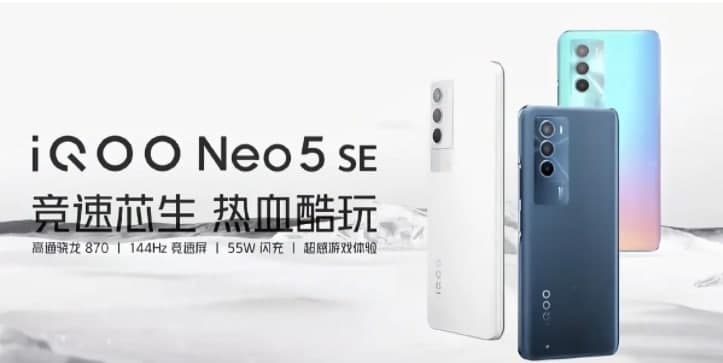 iQOO Neo 5 SE confirmed to be equipped with Snapdragon 870, 144Hz display, 55W fast charge
iQOO is preparing for the release of the Neo 5 series. The company will launch a new mid-range smartphone in China later this month. The company will launch Neo 5s and Neo 5 SE on December 20. Before the release, some key details of the two Neo 5 series phones have been confirmed. The latest trailer of the Vivo sub-brand confirmed the specifications of Neo 5 SE before its release. iQOO has confirmed that the SE variant will draw power from the Snapdragon 870 SoC. Let's take a look at the specifications and functions confirmed before the release of iQOO Neo 5 SE.
  IQOO Neo 5 SE will be released together with the standard Neo 5S on December 20. Prior to its release in China, the specifications of the device have been determined. The official teaser poster shows that this phone will be powered by Snapdragon 870 SoC. On the other hand, as previously reported, Neo 5s will draw power from the Snapdragon 888 SoC.
  IQOO's SE smartphone will be equipped with a 144Hz refresh rate display. We can expect that the device is also equipped with an AMOLED screen. The screen size of the device has not yet been officially announced.
   The official notice also confirmed that the phone will support 55W fast charging out of the box. We can expect this phone to be equipped with at least 4500 mAh battery. iQOO has not yet revealed the battery specifications of the device.
  IQOO Neo 5 SE will be equipped with a three-camera setup on the back. The device will be equipped with a primary 50MP camera sensor, as previously reported. It may be equipped with an 8MP ultra-wide camera sensor and a 2MP macro camera sensor. This phone will also have a punch-hole camera cutout. It will start with white, dark blue, and blue gradient options. At present, other details of this phone are still unknown. However, the waiting time is not long, because the device will start in a few days.