"Sakura Wars" linked with Seiko launches Shinguoji Sakura Watch 25th Anniversary Limited Edition.
Seiko, a century-old Japanese watch manufacturer who is keen to link with major animation game IPs, has launched new products. It has recently announced the launch of the Shinguoji Sakura-themed watch in conjunction with "Sakura Wars" to commemorate the 25th anniversary of the "Sakura Wars" game. Sophisticated limited sale.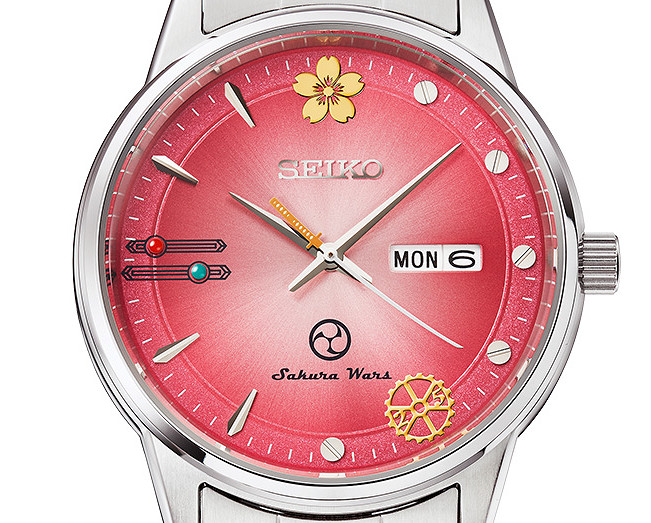 Sakura Shinguoji is the main character in the game "Sakura Wars" series and its derivative works, the heroine of the game's first, second, and fourth generations. Be serious, lively, & have a strong sense of justice. She is the daughter of one horse at Zhen Gong Temple against the demonic forces—born in Miyagi Prefecture. At first, Beichen's swordsmanship was used as his swordsmanship.
After the birth of the "Sakura War" in 1996, it quickly attracted the attention and love of players. Commemoration of the 25th anniversary of the birth of the game "Sakura War," it cooperated with Seiko to have a limited edition of 2500 watches worldwide. The dial adopts the iconic cherry pink of the series, and the series logo is engraved in many places. The laser-engraved series LOGO and the limited edition serial number are on the back, which is full of collection value.
What's even better is that the watch box is specially designed to be an exquisite music box. The classic theme song will be played when the lid is opened. It was officially released on September 3, and interested players can follow: Official page.
New Sakura Wars (New Sakura Osho)
Category: role playing
Platform: PS4
Development: Sega
Publishing: Sega
Listing: 2019-12-12
"Sakura War" is a popular drama and adventure game released by Sega in 1996. It focuses on the battle of the Imperial China Group, whose mission is to fight against the enemy "devil." It combines the elements of love adventure and mecha combat. "New Sakura War" takes the 29th year of Taisho as the stage. Under the leadership of the new empire Huaji team leader "Kamiyama Seijuro" in Kyoto, the girls will fight against the evil enemy again and raise a wave of Taisho Sakura. Romantic storm.